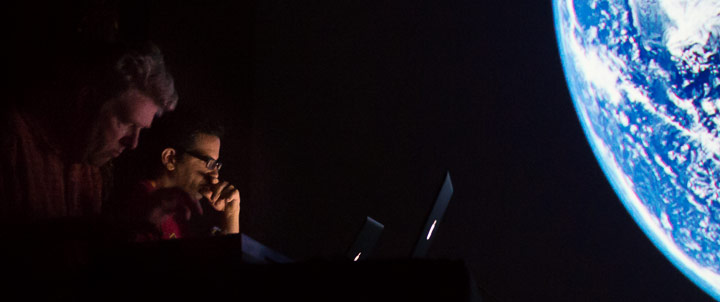 KV 265 "Science through Art"
In 2003 I began to use my skills in scientific illustration and photography to create astronomy-themed artwork that would "provoke curiosity and a sense of wonder about the Earth and the Universe". This evolved into a into a series of multidisciplinary projects where art is used as a vehicle to communicate science and, most importantly, to inspire people to learn about science on their own. The flagship project of this series has been the Science & Symphony films. This project began in 2006 as a collaboration between the world-renowned Adler Planetarium and the Chicago Sinfonietta. It consists of science films produced to accompany live performances of specific classical music works.
The success of my first two Science & Symphony films led me to co-found
KV 265
with Anne Barlow and Dr. Geza Gyuk. KV 265 is a non-profit organization whose mission is the communication of science through art to communities worldwide. It seeks to heighten appreciation and understanding of art, music, science, and technology and to inspire further exploration of these disciplines among its audience members through multimedia concerts, lectures, and educational workshops. One of the ways we achieve our mission is through the Science & Symphony project.
KV 265, or Koechel-Verzeichnis 265, is the catalog number for the Mozart piano variations ("Ah vous dirai-je, Maman") used in the popular English nursery rhyme "Twinkle, Twinkle, Little Star". We have taken this name to illustrate the connection between science (and in particular Astronomy) and art that surrounds and enriches us throughout life.
The
Science & Symphony
project consists of science films produced to accompany live performances of classical music works. The films follow the tone and tempo of the music and draw upon visuals from scientific institutions including NASA, the European Space Agency, and the National Center for Supercomputing Applications. Many of the films also rely on my own photography. The films are intended to be art pieces that aim to inspire audiences and encourage them to learn more about the Universe and the music itself.
The Science & Symphony films have been presented in more than 115 concerts and have reached a combined audience of more than 265,000 people in concert halls and educational institutions spanning more than 50 cities in 15 countries. The first two Science & Symphony films, "Gustav Holst's The Planets" and "Astronomical Pictures at an Exhibition" were named by the International Astronomical Union and UNESCO as Special Projects for the International Year of Astronomy (IYA2009). In 2012 "Gustav Holst's The Planets" was chosen for Ravinia Festival's One Score One Chicago initiative. "The Legend of the Northern Lights", our collaboration with composer Chris Theofanidis, was premiered with Grant Park Orchestra to critical acclaim in front of 32,000 people.
Some of the orchestras that have presented these works include the Chicago Symphony Orchestra, San Francisco Symphony, Boston Pops Orchestra, National Symphony Orchestra (US), Grant Park Orchestra, Chicago Sinfonietta, Santa Fe Symphony & Chorus, Pacific Symphony, Orquesta Sinfónica Nacional (Mexico), Calgary Philharmonic, Czech National Symphony Orchestra, Orchestra Teatro Regio Torino, Casa da Musica Orchestra, Porto. Music festivals include Ravinia, Grant Park, Wolf Trap, MITO SettembreMusica (Milano/Torino), and Cervantino (Mexico).
Long-format films
Gustav Holst's The Planets (2006; Music by Gustav Holst)
The Universe at an Exhibition (2008; Music by Mussorgsky, arr. Ravel)
Moonrise (2011; Music by Maurice Ravel)
Explorers of the Heaven's (2012; Music by William Herschel)
The Legend of the Northern Lights (2014; Music by Christopher Theofanidis)
Solaris, Borealis, and Wondrous Light (In production; Music by John Estacio)
Shorter works for space-themed pops concerts
Introduction from Also sprach Zarathustra (2011; Music by Richard Strauss)
Over the Beautiful Blue Planet (2011; Music by Johann Strauss II)
Clair de lune (2013; Music by Claude Debussy, arr. Luck)
Around the Earth in 90 Minutes (2013; Music by Hector Berlioz)
I have given more than 100 lectures about science and art around the nation and abroad. Watch this space for more information about them.
The
Bailey-Salgado Project
is an audiovisual ensemble formed in 2010 by musician and composer Tom Bailey (Thompson Twins, Babble, Holiwater, International Observer) and myself. We combine original music compositions with photography, film, and science visualizations to create multimedia works that have as subject the physical world. Our presentations feature video projection, live music, as well as short introductions to the science content and creative process behind their works.
José Francisco Salgado + Beyond Pluck
Beyond Pluck
is a unique harp duo that seeks to push the boundaries of the instrument through innovative collaborations, educational engagement, and diverse programming. One of those programs is our "Science in Harmony" presentations where we combine live performances and film projection with science and music education.
Selected list of publications featuring artwork and/or scientific illustrations
Einstein's Telescope: The Hunt for Dark Matter and Dark Energy in the Universe
, E. Gates, 2009. W. W. Norton, ISBN 13 978-0393062380
A
strolies
, N. Stanic & M. Tadic, Belgrade, 2005. Zavod, ISBN 8617129409
Starry Cities — Galaxies–Traveling Through Time
, N. Stanic, Belgrade, 2004. Zavod, ISBN 8617121645
Children of the Stars
, D. R. Altschuler, 2002. Cambridge University Press, ISBN 0521812127
Nuestra Galaxia and Other Media Appearances
"Nuestra Galaxia" is an Emmy-nominated astronomy news segment and a collaboration between the Adler Planetarium and Noticias Univision Chicago (WGBO). The two-minute segment hosted by me aired weekley between 2006 and 2008 and covered astronomy news and topics, skywatching information as well as questions submitted by viewers. "Nuestra Galaxia" was part of an Adler initiative called "Adler en Español" which explored opportunities to interact with the Spanish-speaking community in the Chicago area which numbers more than one million people. Other Spanish-language components of this initiative included audio tours, courses, special programs, sky shows, and interactive exhibits.
For links to other TV and radio interviews please visit the
Press
section.